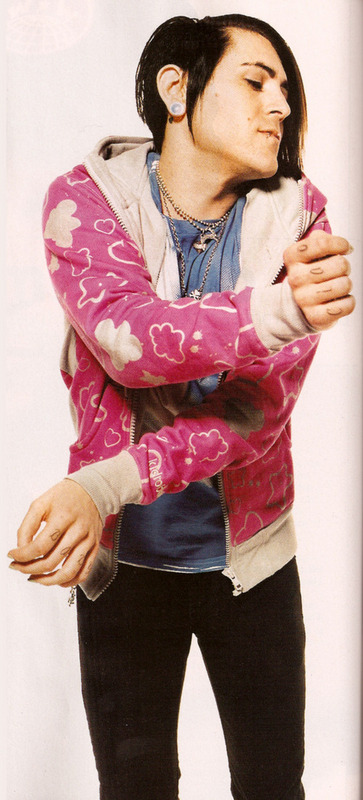 DAVEY HAVOK: The AFI frontman loves the biosphere, hates drugs, and doesn't want to get sued by Perry Farrell.
Are you excited about playing Al Gore's Live Earth show?
We were honored to be asked. I think the whole event is just a really great thing to increase people's awareness of the complete destruction of the biosphere. The fact that it's warm in New York City on New Year's Eve, it's strikingly clear that what we've been doing is fially reaching a point where we're seeing the repercussions.
Do you think that events like this can actually change things?
I think they can. Look at the influence that bands have on people at a smaller level. For instance, a lot of our fans have been moved to become vegan or drug-free based on the lifestyles that we live, and that's without ever having played a festival for veganism. At that level, you can see a slow change, so at a greater level, I think it can have a stronger impact. Changes have been made throughout history and they all start at the ground floor. This is an even bigger event, so it gives it a head start.
In your experience, what's the worst thing about going to festicals?
As a fan, I don't like them. I've only been to one in my life, and it was the first Lollapalooza in 1991. It was amazing because Jane's Addiction played, but it was also the first time I saw Trent [Reznor] and Siouxie and the Banshee's. The whole thing had a really great vibe. But I grew up going to shows indoors, so I'm just not used to being out in the elements or having to wake up early to go to a show. If I'm going to have fun, it doesn't involve waking up early.
So is there an upside?
Well, seeing Madonna in a tent outdoors in the middle of the night packed with 3,000 people is going to be a different experience than seeing her in an arena; and then you can go see Depeche Mose and Kraftwerk and Bjork. That's a pretty rare opportunity.
AFI have logged a lot of time on the Warped Tour. What's it like backstage?
There's always something going on, and everyone's very united for the most part. There's a whole mood of "We're all going to get through this together," while working our way though the parking lots in the blistering sunlight, playing at 11:30 in the morning. My face is just melted on the ground, and my voice sounds like I've been drinking bleach for days, but at the end of the day, you get to play in [NOFX frontman] Fat Mike's poker game.
Is that tour just crawling with groupies?
There are always too-young punk girls throwing themselves at everybody, and I'm probably one of maybe five people on the Warped Tour that doesn't take advantage. I'm not trying to take some high moral ground. I don't have any issue with people who want to enjoy in the fruits of groupie-ness, and I have no problems with the groupies themselves - good for them. I usually prefer to just avoid the situation - I've got a bunker and smoke bombs and a cloaking device.
What drugs should be avoided at festivals?
I would suggest all of them. It's self-destructive, selfish, and weak, and you'll pass out and miss all the bands. Just enjoyt the rock - and I mean the rock'n'roll, not that other rock.
Is there anybody you've met at a festival whom you wouldn't have met otherwise?
We played a Japanese festival with the New Doors, or the Doors 2000, or whatever they were called. After we finished, Robby Krieger walked up to me and told me he really enjoyed our set, which was extremely surreal. At the same festival, I walked by Deborah Harry, and she told me I looked fabulous. She was being very generous, especially at that moment.
Did you bond with anybosy at the Spin cover shoot?
Jeff Tweedy didn't say much, but we did spoon. He gave me comfort, and I helped style him a little bit. He can attest to that.
What's the biggest difference between European festival and American ones?
I really think it's more culturally instilled in Europe, something that's a part of people's lives for as long as they've been music fans - it's in their music-fan DNA. I certainly remember watching MTV as a kid and hearing about the Donington Festival.
If you were to curate your own festival, who would play Havokpalooza?
I think Perry might have an issue with that name. Regardless, I'd bring Silversun Pickups, a European band called Covenant, the Scissor Sisters, and either White Stripes or Raconteurs. I just want some Jack White. somehow.
Whow would you want to reunite for your festival?
Probaby something easy: How about The Smiths? Morrissey said he'd never do it, but he's probably just waiting for Havokpalooza.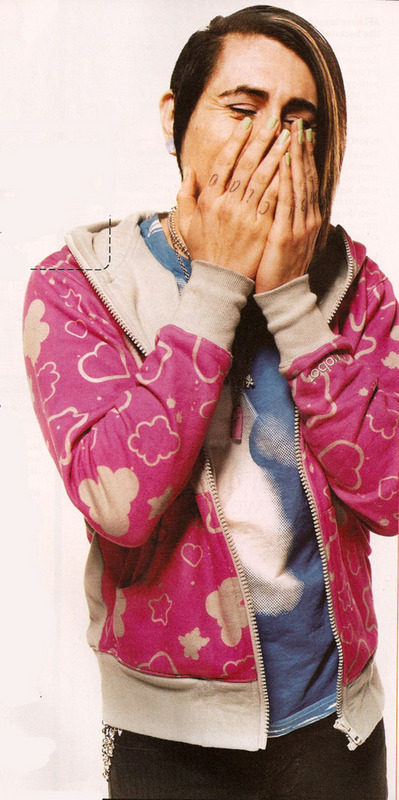 Administrator





Number of posts

: 1063


Age

: 30


Location

: Saint Andrew (Jamaica)


Job

: Student


Hobbies

: singing, listening to music, computers, tech toys, AFI


Registration date :

2007-01-31





Similar topics
---
Permissions in this forum:
You
cannot
reply to topics in this forum